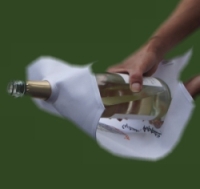 The Bottle-Cloth is the new, refined must-have accessory for wine and Champagne serving. The product is ingeniously simple and will look sensational whilst portraying your logo or promotional message on it, and will become the highlight of any event or evening.
The Bottle-Cloth can also be used while spending a relaxed evening at home, or when consuming wine amongst friends, the product shall be seen as a noble accessory, a sign of good taste and a way of life.

Through the careful finishing and the elaborate embroidery, your Bottle-Cloth shall become an expression of cultivated enjoyment and a zest for life.

It can be given as a "Thank you" or "Congratulations" gift, and can be appreciated for its intentness and frame.

Through funny and witty sayings, the memories will stay alive and with you forever.
You can use one of our ready-made prints or place your own logo on the bottle cloth.